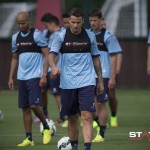 16 Jul

Aston Villa sign long-term deal with STATSports

Aston Villa have turned to STATSports for their GPS performance monitoring and analysis services for the 2014/2015 season and beyond after signing a long-term contract with STATSports.

STATSports are delighted to welcome Aston Villa Football Club to our growing list of clients as our Viper pod and performance software continue to dominate English football. After extensive independent testing and a comprehensive review of software, products and service, Aston Villa football club has agreed a long term contract with STATSports.

The long term deal with STATSports will see the entirety of the Aston Villa club switch over to the Viper player tracking system, the only performance analysis software built from the ground up for football with all Aston Villa teams using the system from academy right through to the first team.

The first team will wear Viper GPS systems throughout pre-season to actively monitor player training loads and steadily increasing conditioning levels as the Premier League season begins in August. We look forward to a fantastic partnership with Aston Villa and want to wish them the very best of luck for the upcoming season. We'll be there, every step of the way.