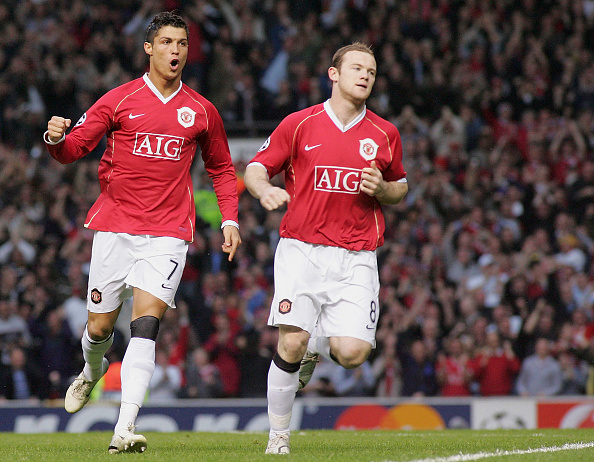 04 Mar

Man United '08 attack v Man City '20 attack – Who starts?

Manchester City take the short twelve-minute trip across the city to Old Trafford this weekend, with bitter rivals Manchester United lying in wait.

In the last decade or more, the Manchester Derby has served up some classics, and has generally been one of the most entertaining local derbies in English football.

And in recent seasons, Pep Guardiola's side have been incredibly successful. The Catalan coach has built a squad full of technically gifted players mixed with grace, flair, and speed – real speed.

While the current Man United squad are slowly getting there again, once upon a time under Sir Alex Ferguson, that is what every group of players encapsulated.

One of the legendary Scot's most famous sides was spearheaded by Cristiano Ronaldo, Wayne Rooney, and Carlos Tevez in 2007/08 – a potent combination of power, skill, and pace for days.

Although hypothetical scenarios in sport serve no real purpose other than good debate, we decided to compare that United vintage attack versus Guardiola's best XI based off, among several things, max speeds.
Leroy Sane/Bernardo Silva v Cristiano Ronaldo
Although currently recovering from injury, it's undoubted that Leroy Sane is one of Man City's best recent purchases.
The young German winger's mix of deft skill and rapid acceleration has made him one of European football's most feared forwards. With a max speed of 35.48 kmph (22.05 mph), the 24-year-old has lightning fast feet and tremendous finishing ability.
Bernardo Silva isn't as quick as Sane but does offer incredible endurance for a forward. The former Monaco star broke a Premier League record by covering 13.7km in a clash against Spurs in 2019.
In his United pomp, Cristiano Ronaldo was untouchable. A powerhouse player off the left side, his speed enabled him to either cut inside or go down the outside of defenders at ease.
One of Ronaldo's most infamous 'max speed' moments in United colours was in the 2008 Champions League clash against Arsenal.
With a max speed of 34.62 kmph (21.51 mph), the Portuguese star's goal record simply cannot be matched by anyone outside of Leo Messi.
In his final season at United he managed over 40 goals and rightfully earns his sport on the left-side of this combined attack.
Sergio Aguero v Wayne Rooney
Likely the position that will cause most debate, how does one pick from Wayne Rooney and Sergio Aguero – two of the most explosive, enduring strikers of their generation?
Aguero's Premier League goals-per-game ratio of 0.69 (180 in 260 games) is higher than Rooney's, but the ex-United striker is second-only to Alan Shearer for most Premier League goals with 208.
In terms of physical specimens, Aguero and Rooney are also quite similar. Neither are the tallest, but both possess huge amounts of explosive power.
A common misconception with Rooney is that he wasn't as fast as the average Premier League striker. But this simply wasn't the case.
Although the former England captain has slowed down in his 30s, at his peak, Rooney was incredibly fast. In fact, his max speed of 34.47 kmph (21.42 mph) would put him amongst the current Premier League speed demons.
Aguero's max speed of 34.69 (21.56 mph) puts him marginally ahead of Rooney, but Rooney has an edge on the Argentine – his lung bursting distance covered. The Liverpool native would regularly cover around 11.82km during a match.
For his energy, speed, and goals, Wayne Rooney takes the striker role.
Raheem Sterling v Carlos Tevez
The final slot in our combined attack is between another Argentine dynamo in Carlos Tevez, and England golden boy Raheem Sterling. Although Sterling is a STATSports ambassador, we'll try to remain impartial here and stick to the facts.
There's little doubt that at the peak of his powers, Tevez was a hugely significant presence in Sir Alex's Champions League-winning side of 2007/08, managing 14 goals in 34 appearances off the right.
Alongside Rooney, and Ronaldo, the 'El Apache' terrorized opposition defences with a high energy approach. However, unlike Rooney, Tevez only managed around 9.5km of total distance covered during a game.
Under Guardiola, Sterling has blossomed into one of the world's best forwards. Although his finishing can be slightly inconsistent, his Premier League goal return of 35 in 67 games from 2017 to 2019 has seen him become a vital component of the City forward line.
Sterling's max speed of 34.97 kmph (21.72 mph) puts him ahead of Tevez whose fastest comes in at around 33 kpmh (20.5 mph). The 25-year-old's high-speed running ability and endurance sets him apart, too. Sterling regularly covers around 3-4 km in high-speed distance.
So, with a better max speed, more distance covered, and a higher goal return, Raheem Sterling completes the attack.
Cop it
If you are an individual player who wants the same world leading GPS tracking technology that is used by over 500 elite teams around the world, including Manchester United and Manchester City, you can purchase Apex Athlete Series.
This will allow you to easily interpret your own training and game data through our iOS and Android app, without needing the support of elite sport scientists. How fast are you running, how much distance are you covering in high speed, find out by clicking here.