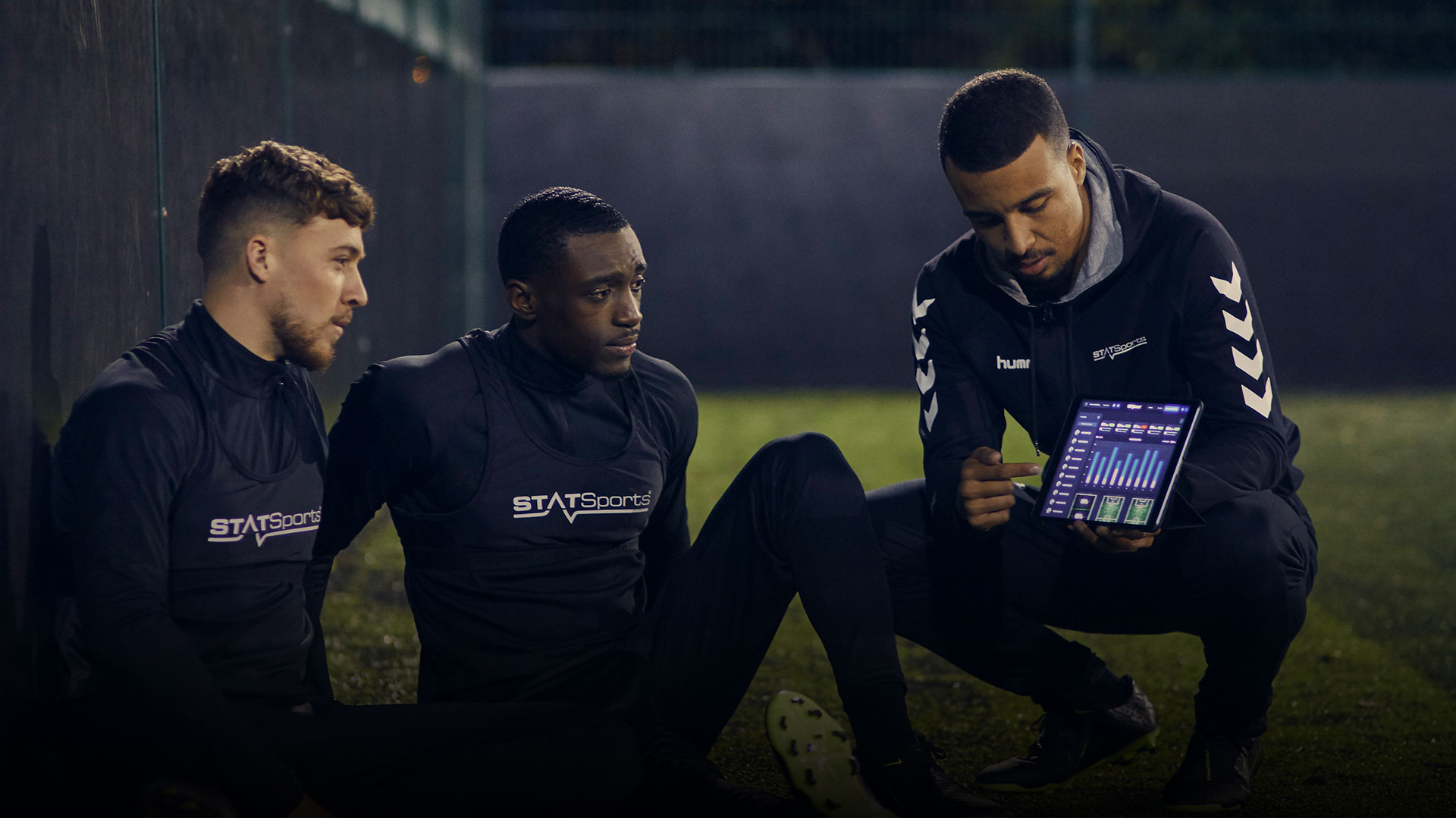 26 Feb

Apex Coach Series – Helping Amateur Clubs Navigate through Covid-19

Covid-19 has had a huge effect on the sporting world over the last year. Its impact has been felt at all levels, from professional sport all the way to amateur, grassroots sport.

It has influenced everything from the overall layout of the sporting calendar to the fundamental ability for teams and athletes to train together as in a typical year.

This clear disruption has led to countless barriers, not least the physical and technical development of athletes participating in amateur sport around the world.

As the professional sports world started to adapt to 'the new normal', amateur athletes and coaches were left behind in many ways having to find innovative new ways to stay connected and to continue their preparation for the eventual return of competition.

The introduction of the Apex Coach Series (ACS) system to the market proved one such novel method, providing teams with a simplified, remote load monitoring tool for players and coaches alike.

The ACS system was developed with amateur teams in mind and combines the core metrics and features from the Pro Series system with an easy to use, clear and concise application that provides coaches with instantaneous feedback helping to streamline and simplify the post-session analysis process.

The ACS platform itself is built with our tried and trusted Athlete Series units as its backbone, with sessions being automatically synced back to a master Coach Series app. The key benefit of this process is that there are no restrictions on where or when sessions take place.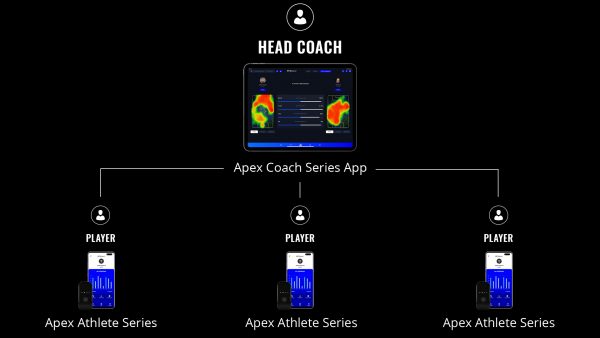 With individual training being such a significant component of every team's preparations over the last 12 months, teams across a number of different sports have harnessed the contribution of the ACS system to give them a competitive edge on their competition.
Some of the key benefits of the system reported by users during the pandemic are outlined below.
Accountability
One of the key features of the ACS system is the ability of the coach to schedule sessions and send push notifications for players to complete said sessions.
After completing a session, each player's data is automatically uploaded to the ACS application for analysis.
The coach will then be prompted on how many members of the squad have not downloaded/synced a session.
This has really improved player buy-in across the board and has allowed coaches to confidently set sessions and progress workload accordingly.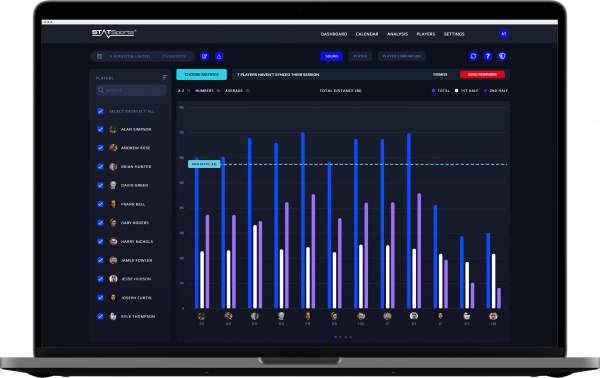 Sense of Team/Togetherness
With squad training sessions, games and events being so few and far between over the last year, the lines of communication and the sense of unity that comes with playing team sport were strained.
ACS users cited the players and coaches continuous use of the GPS system and all the discussion that came with it as a positive in terms of keeping a sense of team.
The coach's ability to create squad PDF and custom excel reports to share with the team helped players see how they compared with their teammates.
This simple concept helped to drive competition within the group as well as sparked conversation amongst players and coaches alike.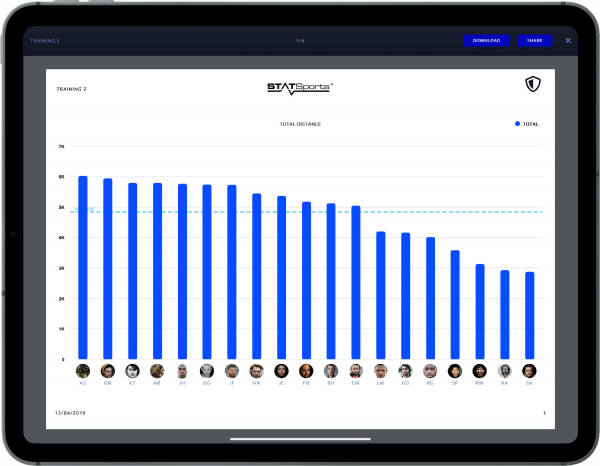 Readiness to Play
The core purpose of the ACS system is to ensure a squad's workload is at a suitable level to ensure the optimisation of performance and also to reduce the risk of injury.
Setting targets for a team and ensuring their collective progression in preparation for competition has become more difficult for coaches with the limited access to players.
Using the Apex units to track workload has been vital for both the players themselves as well as of course the fitness coaches setting the sessions.
The ability for coaches to set goals for blocks of training and track each player's progress with them has allowed them to confidently increase training load with a reduced risk of overtraining and injury.
This has led to teams being able to hit the ground running on return to squad training and competition rather than having to cautiously build training intensity up from a lower base.
The importance of this was inflated by the fact that collective preparation times for competition were significantly reduced in most cases.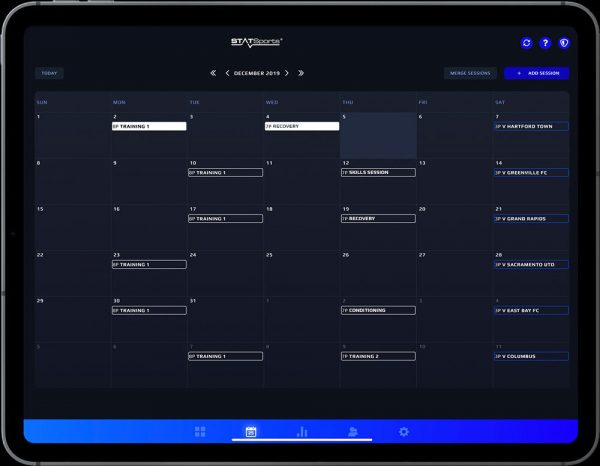 When amateur competition returns and teams start to build a database of training and games over a number of seasons with ACS, coaches can make more informed plans for future pre-season/competition preparation phases.
This can be done by using average match demands and individual player demands and abilities.
New Features
Since the release of the ACS system at the beginning of 2020, we have strived to work with users to ensure that the future development of the system was driven by coaches and players working with it every day.
After consultation with users across all sports, we have added a host of brand new features to the ACS application which have helped bring the user experience to the next level.
Web Application – ACS application is now available as a web application allowing users to access squad data on any screen over 7 inches (laptop/PC/MAC), not only iPad/Android tablet as it was previously.
Additional Metrics – There are now 10 key metrics available to coaches with the addition of High Metabolic Load Distance, Sprints, Sprint Distance, Accelerations, Decelerations and Calories (Energy Expenditure).
CSV Export – The new CSV/Excel reporting function allows users to export all squad data for further analysis outside of the ACS application. This feature gives the coach more control with their squad's data over time.
Conclusion
Apex Coach Series has become an invaluable tool for teams throughout the Covid-disrupted last year.
The benefits to amateur coaches and players of having access to elite-level data and functionality at an affordable price has revolutionised how they have navigated through the toughest of years for organised sport.
The existing key benefits of the ACS system alongside some of the brand new features will help shape how grassroots teams approach load monitoring for years to come.
Join the growing list of athletes and teams benefiting from Apex Coach Series by availing of our multi-buy discounts here.
Why not avail of a free online demo of the system by clicking here.