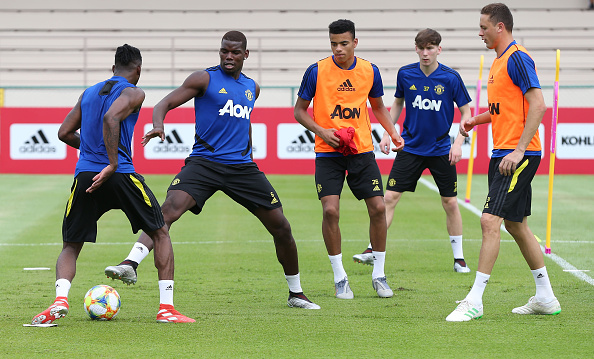 24 Jul

Huge Sprints and Total Distance increase in Man United's pre-season performance

STATSports clients Manchester United are leaving no stone unturned in a bid to get their squad firing on all cylinders ahead of the new Premier League season.

Traditionally, pre-season is four weeks of intense fitness work over July. But with modern commercial tours to far flung places now thrown in, player welfare becomes even more of a necessity.

Solskjaer and his side have travelled over 5,000 miles already in pre-season with games taking place in Australia, Singapore, and China.

With long journeys and hard training sessions, GPS tracking forms a large part of how performance teams manage the squad's physical output – how much running is done, and how intense it is.
High-Intensity Running
One of Man United's major problems last season was the apparent lack of fitness. In terms of Total Distance covered, the squad finished in the bottom five Premier League sides. They also finished in the bottom seven teams for most sprints.
Despite a dream start under Solskjaer, the squad faded badly physically and suffered a number of muscle injuries as the season wore on. Arguably, that could be put down to the lack of physical preparation the previous summer under Mourinho.
While Mourinho was reportedly not a major practitioner of GPS tracking – instead favouring tactical periodisation – the former Molde head coach has been a long-time admirer of the technology-based approach.

And with Solskjaer really turning up the heat on his United players over the last few weeks, it's imperative they are forensically monitored in every session.
Increase in Total Distance
Led by Head of Athletic Training, Rich Hawkins, and Head of Sport Science, Ed Leng, STATSports' Apex soccer GPS trackers have been measuring the players output and it has produced some pleasing results.
The coaches have compared the data over the first two weeks of this year's pre-season to the same period last year and found the squad's total distance covered had increased by 10%. Most surprisingly, their high-intensity running had ratcheted up by 50%.
A number of players, including Paul Pogba, had already been putting the work in before the squad even left for the Far East.
There are still a couple of weeks left until the big kick-off but Solskjaer will be hopeful of a good start and the avoidance of any mid-season burnout.
Like Manchester United's stars, you can now track your performance like the pros with our 1-2-1 solution, Apex Athlete Series – available to purchase here.