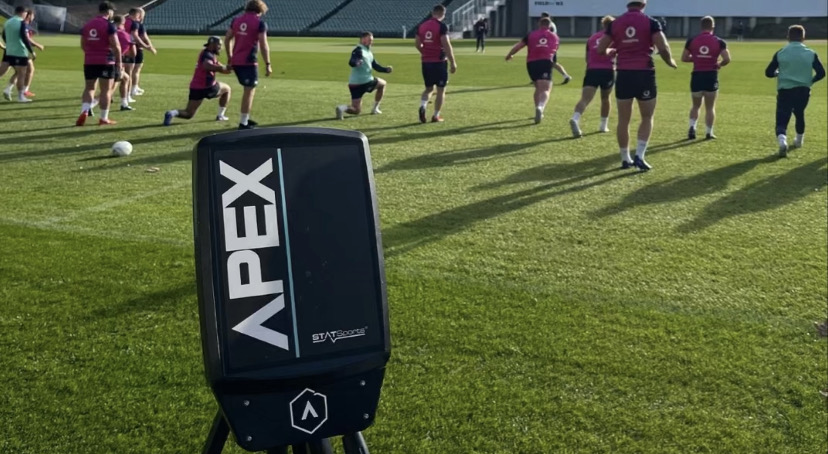 01 Feb

IRFU Renews Partnership With STATSports Ahead Of Six Nations and Rugby World Cup

Posted at 09:32h

in

Rugby

The Irish Rugby Football Union (IRFU) have set pen-to-paper on a new long-term deal with STATSports that will see a continuation of the partnership that has been in place since 2018.

STATSports provide its GPS tracking and performance monitoring technology for every senior professional rugby player on the island of Ireland.

STATSports supply the Ireland men's, women's, U20s and national 7s squads with its revolutionary Apex GPS device, which tracks players during games and training, and provides actionable feedback to coaching, athletic performance, and medical staff. The four provinces – Leinster, Munster, Ulster, and Connacht are long-time users of the technology.
Ahead of Tuesday's second match against the Māori All Blacks, we caught up with Ireland Sports Scientist, Matt Hamilton, to see how they measure up to international Test standard 📈⬇️#TeamOfUs | #MABvIRE pic.twitter.com/vvabYV2PYS

— Irish Rugby (@IrishRugby) July 11, 2022
Irish Rugby has had unprecedented success in the last number of years, with Ireland Men's team claiming a history-making test series win against the All Blacks in New Zealand last year, claiming the number one spot in the world rankings ahead of this autumn's World Cup.
Nick Winkelman, the IRFU's Head of Performance & Science, said: "To guide performance, recovery, and reduce injury risk, reliable and accurate data is vital in high-performance sport. Across the national teams, and the four provinces, STATSports technology continues to be an important cog in the wheel at the IRFU and we look forward to continued success together."
STATSports, CCO and Co-founder Sean O'Connor, said: "It's been an incredible journey together in recent years, with the wins against the All Blacks and the Springboks in 2022 confirming Irish Rugby's ascent ahead of a vital season. We're proud to continue this partnership with the IRFU and wish all the teams under the federation the very best of luck."
STATSports are also the official supplier to the All Blacks, South Africa Rugby, England Rugby, and Argentina Rugby.
REQUEST A DEMO
If you are a rugby coach who wants to improve your team's performance and prevent injuries, schedule a free demo our team series software from one of our expert sports scientists by clicking here.
If you are an individual player who wants the same world leading technology that is used by over 500 elite teams around the world, you can purchase the STATSports Apex Athlete Series.
This will allow you to easily interpret your own training and game data through our iOS and Android app, without needing the support of elite sport scientists.