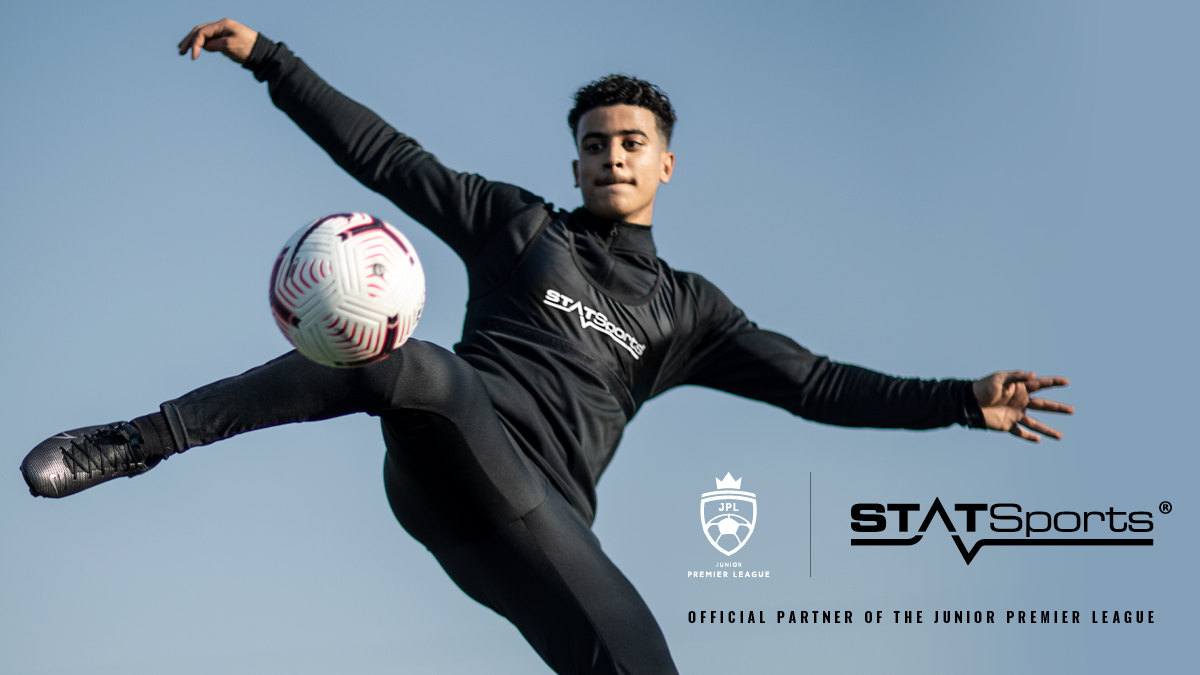 04 Nov

Junior Premier League welcomes STATSports as official partner

STATSports, the football industry's leading provider of GPS wearable technology, has entered into a ground-breaking new partnership with the Junior Premier League.

This partnership will see STATSports provide JPL clubs with the opportunity to improve performance with the most cutting edge wearable technology available on the market, including exciting new initiatives to help teams develop training and matchday performance.

The STATSports APEX Athlete Series product – a GPS device worn between the shoulder blades inside a black performance vest – features the same technology used by many of the biggest teams in world football, including Liverpool, Manchester United, Paris Saint-Germain, and the England, Germany and Brazilian national teams.

The product also proved very effective in helping elite players maintain fitness levels during the UK-wide lockdown in spring 2020, with regular use by high-profile players such as Raheem Sterling and Alex Oxlade Chamberlain.

Martin Brock, Chairman and CEO of the Junior Premier League said, "We're excited to be working more closely with STATSports through this partnership. The culture of the JPL is entirely development-focused and we're always looking at ways we can innovate in English youth football. Inspiring the 20,000 players who compete in the JPL to approach their football development in a new way is something we've been considering for some time."
Another huge step forward in our football development …. huge thanks to @statsports and @jpluk for their support in providing our u14's Squad with state of the art GPS Sports Performance Vests, technology in assisting with player development #trainlikeapro #statsport#JPL pic.twitter.com/D9fFk5DYez

— Solihull Academy FC (@sol_acad_fc_JPL) August 11, 2020
"As the only league in the country to be designated as an FA Licensed Coaches' Club league, the JPL has high minimum standards in terms of coaching qualifications. This partnership will help stimulate footballer and coach development while creating stories which contextualise player performance across the JPL's age groups, so is something we believe will strengthen the relationship between player and coach, coach and parent and parent and player," Brock added.
Sean O'Connor, Co-Founder of STATSports added, "We are delighted to be working with the Junior Premier League through this partnership. As a competition which concentrates on a high quality of
under-age football, we're really looking forward to helping Junior Premier League teams track and
improve their performances throughout the season with our technology.
"Our APEX Athlete Series product is something all JPL players, coaches and parents can engage with to help improve performance, in pre-season or lockdown periods as well as during the season," concluded O'Connor.
Request a Demo/Buy It Now
If you are a fitness coach who wants to improve your team's performance and prevent injuries, you can schedule a free demo with our team series software from one of our expert sports scientists by clicking here.
If you are an individual player who wants the same world leading technology that is used by the JPL and over 500 elite teams around the world, you can purchase Apex Athlete Series.
This will allow you to easily interpret your own training and game data through our iOS and Android app, without needing the support of elite sport scientists. Click here to find out more.