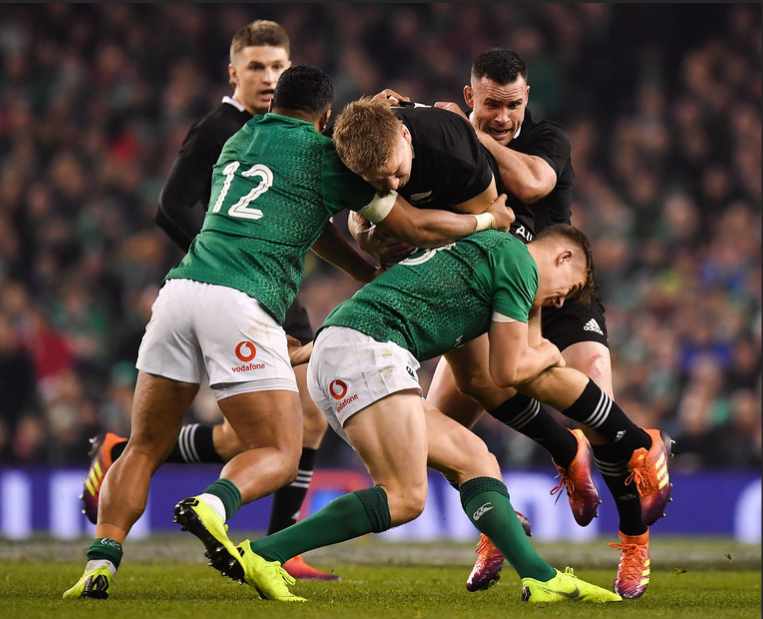 01 Feb

Life Inside 6 Nations Camp with the IRFU
Introduction
A sports scientist's role is to apply scientific principles and theory into real life settings in such a way to develop and quantify athletic performance.
Key areas of interest are typically evolved around specific metrics for performance markers, but also involves players' wellness status.
How are the players' overall wellbeing, a simple question "How are you?" goes a long way.
A routine task of a sports scientist is to perform the morning monitoring – how the players have reported in their "readiness" scores and who needs some extra TLC.
If this is the case, how can we bring the player(s) up to speed and contribute in a positive manner towards training performance for a typical day.
Lastly, and probably most importantly, the sports scientist is often the key point of communication between players, coaches, and other performance staff.
With all the data available, how is it best communicated to three separate departments in such a way that the reader can interpret and act upon the data presented.
A challenging task for a sports scientist is often: How can we bring data to life and engage our players and performance staff members? Inside 6 Nations Camp with the IRFU, it is my responsibility as the sports scientist to:
Collect and report all data – readiness scores, strength & power and load monitoring.
Align with the performance department to periodise, monitor and assess load management against performance standards (training squad), injury risk (all playing squad) and return to training (rehab players).
Communicate with players and performance staff through data – bringing the data to life.
Training Day
Each training day has a specific theme, ranging from clarity (technical and tactical) to level 3 free flowing rugby.
Therefore, each training day requires a niche approach to analysing and reporting the data collected.
One common method of reporting to players and coaches is the traffic light system (RAG) methodology.
What makes the RAG system so powerful is the statistical approach (e.g., Effect Sizes, Magnitude Based Inferences and percentage differences compared to an average) that can be used in conjunction to determine the level of intensity/ volume that is being performed against the pre-recorded threshold.
The level at which the players are performing at against that threshold is then displayed through colours.
The RAG system is quick and easy to read and interpret for all players and performance and to make informed decisions.
Traffic Light System (RAG): Used as an awareness method to give visual feedback in:
Preparation for training (readiness)
Live feedback during the training session (reactive decision making)
Analyse the standard of training performance (retrospective).
Example application of the RAG system using statistical approaches can be found below.
Red (Excessive) = +3 Effect Size/ 125%+ against a set threshold
Amber (Overload) = +2 Effect Size/ 110% – 125% against a set threshold
Green (Optimal) = +1 Effect Size/ 75% – 110% against a set threshold.
Readiness Monitoring
For readiness monitoring, the players input subjective and objective scores into our monitoring system, The Sports Office.
Here, we use the RAG system to illustrate changes in the player's historical data for any of the subjective and objective scores.
I will analyse the data for fluctuations (and any warning flags) to follow up with the medical/ performance team who needs some extra mobility work or anything else that prepares the player appropriately for the day's session.
After the readiness monitoring is complete the players and staff travel over to the training Headquarters, Sport Ireland Campus.
Upon arrival at HQ, the players will go through self-led activation and injury prevention exercises known as 'Quarry'.
This typically involves activation through mini-bands, trunk strengthening/ torso-stability exercises and shoulder work.
Any selected players from the results of the readiness monitoring go to the appropriate practitioner (Strength & Conditioning/ Medical team) to assess their specific readiness to trainer markers.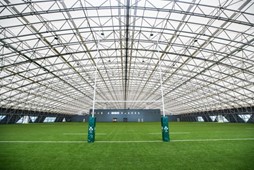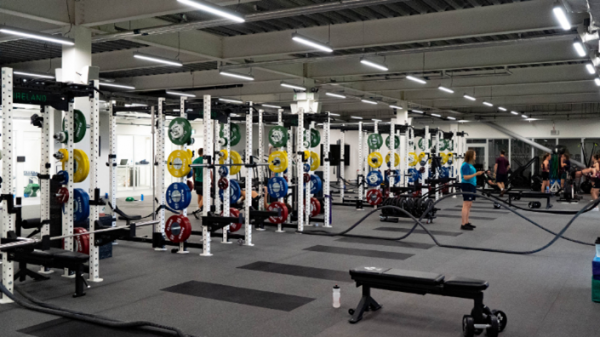 Figure 1. Training HQ at Sport Ireland Campus for the IRFU.
In Session Live Feedback
The practical application of live feedback using the Sonra Live iPad app is displayed in Figure 2. Live feedback through Sonra's "Threshold" feature is a simple and easy method to see any 'outliers' of selected metrics in the current session against the pre-recorded threshold for the individual player/squad.
A valuable feature for my analysis is the ability to create groups, e.g., Backs, Forwards, Rehab and target player/ position for specific load monitoring (Props, Back Row and Centres). This gives an insight into any players in a specific group about their prescribed threshold value, using the RAG methodology.
Typical questions from coaches include:
"Which players need to be rotated?"
"Who needs some top ups at the end to achieve their target?"
"How did today's session compare to our previous sessions?"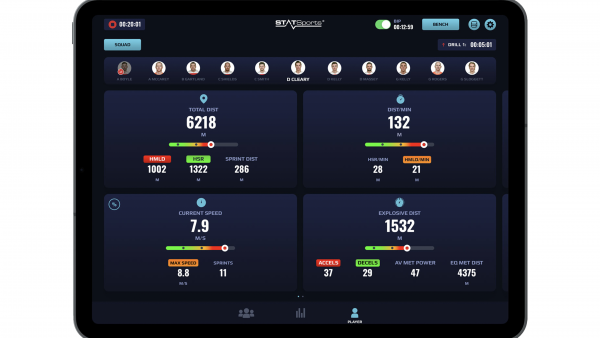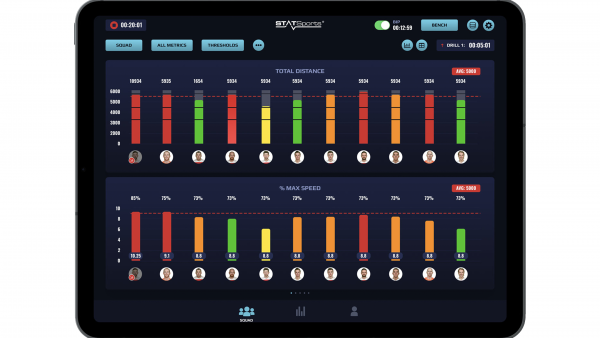 Figure 2. Live application of Sonra Live iPad app for in session live feedback.
Using the RAG methodology allows the Sports Scientist and the coach to quickly analyse and interpret the level of load being placed on the players against a pre-selected marker of load.
This leads to accurate and informed decision making in our load management in session with live feedback.
Retrospective Post Session Analysis
After the session is completed and GNSS data is uploaded to STATSports Sonra software this is where the more in-depth analysis starts.
International players are very aware of their output when looking at metrics such as HML Distance, Accelerations/Decelerations and Explosive Distance at club level, so we need to educate and communicate the standards which need to be met at international level, alongside appropriate load monitoring practice.
I also work alongside the Performance Analysis department in bridging the gap in our analysis approach.
Both departments link up with projects and reports to give the best insight into training and games to relay feedback to the players and coaches.
Players receive a lot of information – visually and cognitively with respect to team plays, tactics and media/sponsors.
Athlete monitoring and video analysis technologies can play a key role in this process in a holistic approach of delivery.
Giving coaches the ability to tailor messages to specific athletes, improve the presentation of performance insights, and generate greater athlete buy-in where technology is an invaluable tool for communication.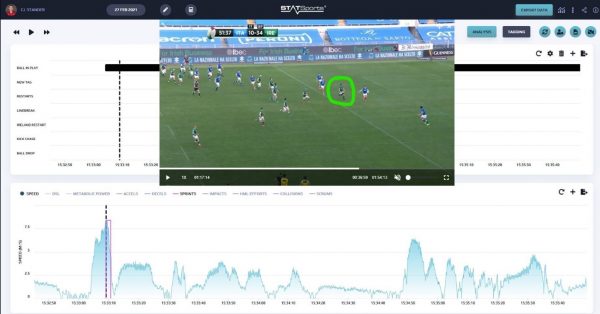 Figure 3. The application of Sonra's video manager when linking GNSS technology, video analysis and feedback to players and coaches.
We have previously discussed the "tactical and technical application of GNSS technology in rugby union" through the use of Key Performance Indicators (KPI).
Establishing specific KPI's and utilising all available technology is of paramount importance.
This brings accuracy in data, engagement in coaching and competition in training.
Ultimately, all of which hopefully leads to more of….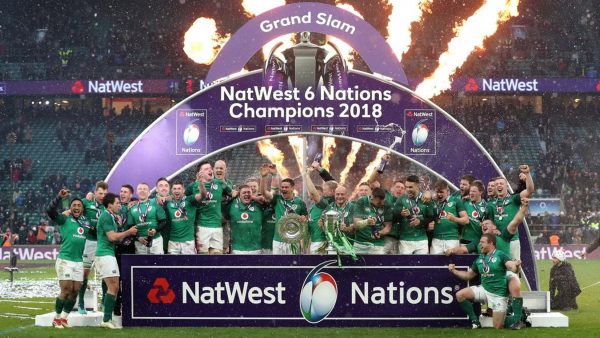 Conclusion
Communication is a vital skill and a key part of any elite sporting environment.
Communication can foster strong relationships and help players to better engage in training as they have an appreciation for why they are being asked to train the way they are.
Sometimes it's difficult for a player to understand why we do the running sets that we do.
However once we display the data in an engaging format, it enhances buy-in to the whole concept and the relevance of that type of training.
Applying all features of the Sonra ecosystem and various other technologies helps to convey the message being delivered which ultimately, completes the puzzle.
Remember:
Curiosity is the engine of achievement ~ Sir Ken Robinson
Calmness is the cradle of power ~ Josiah Gilbert Holland
Always play and train with a smile ~ Ollie Campbell
Author Details
Matthew Hamilton
IRFU Sports Scientist