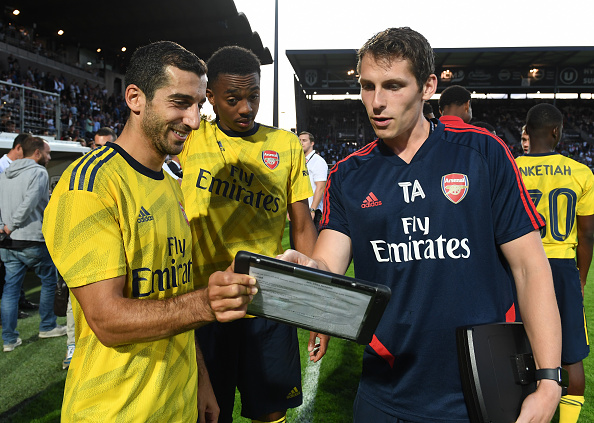 16 Jun

STATSports talk performance with Arsenal's Tom Allen

Although it precedes him, Tom Allen's reputation as one of the sharpest minds in the sport science industry is well deserved.

Arsenal's lead sport scientist is a regular on the speaking circuit and made a fantastic impression on our audience in our Performance Webinar Series back in April.

Just before the announcement of the Premier League's return, we picked Tom's brain on a number of key areas, including how he dealt with lockdown, devising home training programmes for the Gunners squad, and not getting "lost in the noise"…
You've been in the Sport Science industry for nearly ten years now – in terms of COVID-19, has this been the strangest time you've known in your career?
Yes, these are definitely strange times that has affected our normal lives as well as the way we work. It has made the need to communicate more important than ever.
As a team we ensure that everyone within the club, players and staff, and their families are well. With the movement restrictions in place its important people get to hear from those not only in their household.
The club prides itself on its family togetherness and I think it is times like these where it is important we come together.
From a work perspective, a lot of what we are doing is over phone and video calls, reviewing and planning our processes for the current situation and for when we get back to group training.
As it's a constantly changing environment we are having to put several plans in place, reacting to what the current guidelines are making sure we are able to expose the players to what is required to get them in the best physical shape required, whilst ensuring that their safety remains a priority.
A lot of our time with the players has been talking to them about their programs to get them ready and with the players using the athlete series unit, a lot of the onus is on them to record and send the information collected.
It is much more difficult trying to troubleshoot any issues over the phone than being in person.
How have you dealt with the lockdown personally and professionally? Was there anything you did specifically to cope?
Personally, it has been nice to spend some time with the family, something that can be limited in this line of work.
I have never had a prolonged period of time where we would all be together, so it has been nice to spend time with each other. It is just a shame we are limited in what we do.
Professionally, work has not really stopped. We have utilised this period to review what we have done and where we can improve in the future.
We have been in constant communication with coaches, other performance and medical staff and players to get their opinions on what we can improve on and where we can make more of an impact.
We have also been modifying and adapting preparations for our return within the performance team and so this has required a constant evolving process.
This situation has also provided some excellent resources for learning what others do, helping us to also review our own processes by seeing how others work and their thought processes in a variety of areas.
Its great to see top practitioners come together and its Kudos to all the people pulling these together and making it available to the masses.
It has provided an opportunity for people to mix with one another no matter whether they are still at university or are an experienced practitioner with 20 years behind them. Its great to see us all learning off one another.
To cope it was always down to find what the positives are in the situation and making sure everyone else was well too.
Speaking to others definitely keeps you somewhat sane and ensures you have some form of socialisation in these difficult times.
In your recent Webinar presentation, you talked about not getting "lost in the noise" – can you elaborate a little on what you mean?
What we can measure and monitor is constantly evolving with more technologies becoming available to the practitioner.
This increase in technology means there are more data points, which means we can be blinded by too much information.
The key for us as practitioners is to find what is important to help make our decision from the plethora of information available. We must decide what we deem are the key bits of information that will help us attain what is required for our team to increase chances of success.
Your signal in the data is the information that will help you achieve your key objectives whether this be to reduce injury risk, improve speed or increase tactical efficiency.
The noise is any information that could side-track you from this. The key objectives are often decided by the philosophy of the club and the personnel within it.
This requires a clear understanding as a group, in which we must determine the most effective information that will help us achieve the objectives.
In my opinion you need to be wary of an influx of information so I would suggest that you focus on information which highlights:
whether players can produce the requirements for the managers football philosophy
With this we need to understand the requirements for the roles of players (e.g. are they required to cover vast areas of the pitch?) within the football style (e.g. is it predominantly counter-attack or pressing?)
current physical status of players (load management and fitness status)
Where are the individuals currently within their own personal periodisation as well as are there any decrements in physical aspects (e.g. power, CV fitness)
How is that player responding to the prescribed load. Does this affect any manipulations that need to take place?
You can do all this with as little or as much information as you want but it must be efficient and effective in your decision making as the next football match can be in a few days. I personally prefer a layered approach to information.
For example:
There is an overview which can provide a simplified snapshot of what is going on (this is usually what a coach requires).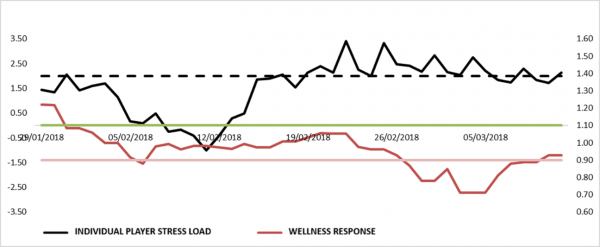 Image: Individual player load status and wellness response
From that you are then able to delve into specifics and look at finer details of that information. So using the above example we can look at finer detail to see the type of load that has caused an increase.
Is it an increase in extensive, intensive, cardiovascular or accelerometer derived metrics? It may be all of them.
Is the reduction in wellness sleep, soreness or physical response (i.e. poor performance in monitoring) to the load?
By doing this, I feel this will allow you to focus on specific areas that will help prepare the player for the next game or period of the season, whilst not overloading the coaches with lots of information, something I learnt early on in my career.
It is important to understand who your audience is for the information as this will determine how you feed it back.
When deciding on which information you choose to use, ensure you:
Develop a system that will impact your environment
Use scientific rationale for why you choose what you do
Understand the pitfalls of what you use
Create something that is simple to understand
Create something that can produce feedback quickly
Try and focus on the key principles that your team feel will have the biggest impact on what you do. If there's information you collect that will not help with your key principles, question why you are collecting it.
The information you then use should be used to provide a sound rationale for the next steps you take.
You spent several years at Aston Villa before moving to Arsenal. Villa are a fantastic club, but it went through a real rough patch when you were there with a number of managerial changes. How difficult did that make your job in terms of trying to prepare a side physically?
Although it was a difficult period at Villa, I think it was an environment where a lot was learnt, seeing how different individuals interacted and reacted to an ever-changing environment.
In situations where there is a lot of changes in management you must be able to adapt to the philosophy of the coach whilst maintaining key principles that the club require.
For example a coach will tend to require:
Players to be physically fit
Reduce injury risk
Be able to produce the manager's game plan from a physical and technical standpoint
The difference between managers tends to be how that is done. Coaches will want their performance teams to achieve that in a certain style that is in line with their philosophy.
I have seen coaches use 3 main approaches when it comes to physical conditioning:
Conditioning Runs
Conditioning done with the Ball
A mixture of the two
Therefore, it is important that you speak with the management to see their preference and to ensure all we do as performance and medical staff is done in the vision of their philosophy.
Ultimately this will direct us as to what is the best way to support the management. The key is to blend the scientific understanding and experience we have as fitness staff with their technical and tactical expertise.
The English football season is famous for its intense nature. How do you prepare for a period like Christmas and New Year's where there's a hectic schedule? And does a period like that play on your mind in terms of the possible worst case scenarios?
A player's ability to cope will be down to several reasons, one of which is how they are prepared to deal with a sudden increase in load.
For that reason, we would tend to plan to begin exposing players to this in October. This would be a gradual increase in load of key metrics building up "safe" controlled volume.
For example, if we are doing an extensive focussed run then initially this would be at the low threshold speeds of HSR.
As the weeks went on, we would build the speed up into the higher speed zone. This can be done through timed runs (if want to go through conditioning runs) or by manipulating distances in ball circuits.
It is also important to start exposing players to some form of active pitch work on MD+2 as once you come to that Christmas period there is the chance that the second day could potentially be a game.
This is to begin trying to prepare the players to deal with it and reduce the shock to the system when it comes about.
When introducing this the difficulty is ensuring those who are not playing are being exposed to the required levels.
As the volume will be hard to reach with some players, a focus on maintaining a high level of intensity (per mins) and manipulating when this would happen in a session (fresh or fatigued state) can be used as work arounds.
What role does a GPS wearable system like Apex play in your preparation of the squad? And how important a role does it play?
Being able to use the GPS is extremely important as it increases the objective information collated during the session to understand the types of stresses a player has been put under.
The use of the live feed allows us to manipulate the session parameters should it be required.
The information collected from Apex is an important part of our everyday process allowing us to prescribe, monitor and adapt the physical load exposed to the players.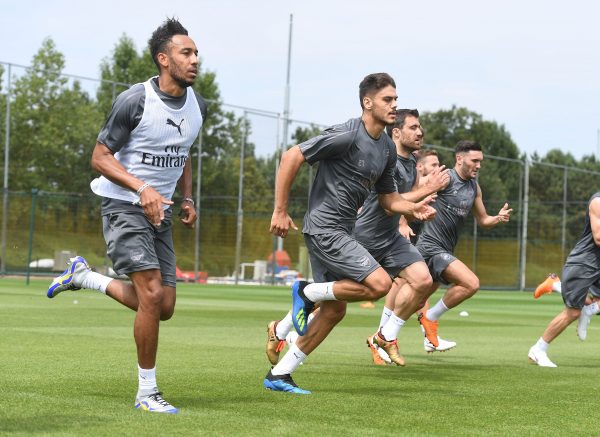 The on-pitch load is quantifiable and then allows us to cross reference the information with other information we have collected, whether this is through monitoring tools or through the coaching eye.
This is paramount in our rehabilitation process where we must monitor the response to load in a greater detail to ensure how much we are able to progress the player through to returning to sport.
However, it is important to understand that it is not the data alone that will make the decision.
We are lucky within our team we have great practitioners with a wealth of experience to disseminate a vast amount of information (some of which is not through data).
It is the integration of these minds that will help improve our processes as we move forward.
Performance-wise, what metrics should a younger player concentrate on in terms of developing athletic ability?
Its important for young players to build on their endurance and ability to repeat high intensity efforts.
The ability to produce this on a consistent basis sets apart those who are considered physically superior in football.
There are a range of methods to improve these capabilities such as lower body strength or the addition of plyometrics which can impact the physical ability on the pitch.
I would not focus on one metric to develop but try and ensure they are looking at improving all physical aspects, whether this be speed, change of direction or cardiovascular endurance.
It is also important to remember that people's ability to apply their physicality can change when they are in a game scenario.
It is important that youngsters try and build into improving their athletic ability in the game environment too.
Request a Demo/Buy It Now
If you are a soccer or fitness coach who wants to improve your team's performance and prevent injuries, you can schedule a free demo with our team series software from one of our expert sports scientists by clicking here.
If you are an individual player who wants the same world leading technology that is used by Arsenal, England, and over 500 elite teams around the world, you can purchase Apex Athlete Series.
This will allow you to easily interpret your own training and game data through our iOS and Android app, without needing the support of elite sport scientists. Click here to find out more.