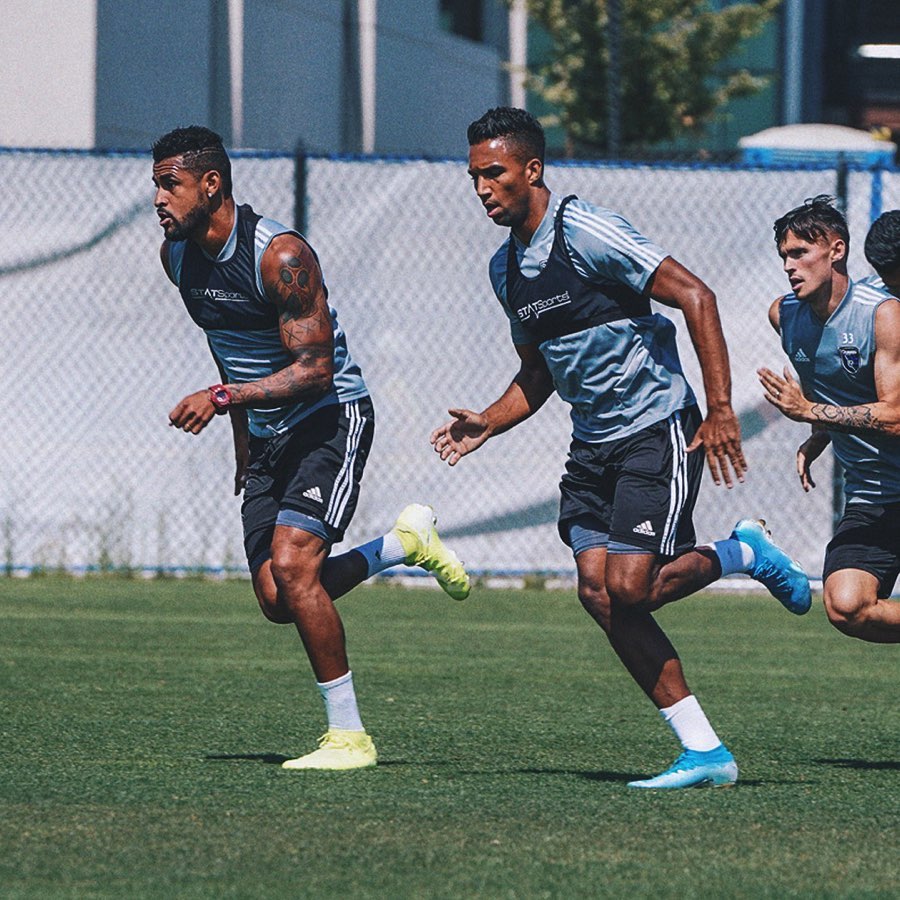 17 Mar

STATSports talk performance with MLS' San Jose Earthquakes

San Jose Earthquakes have a special place in Major League Soccer history. The California-based franchise took part in the first ever MLS fixture back in 1996, defeated DC United 1-0.

Earthquakes are also two-time MLS champions and, under the watchful guise of Head of Athletic Performance Daniel Hicker and Director of Health and Performance Derek Lawrance, are hopeful of a major assault on the 2020 MLS season.

Having just completed a successful pre-season, Earthquakes were two games into the MLS campaign before the suspension of all games due to COVID-19. Beforehand, we sat down with Daniel and Derek to pick their brains on some performance-related topics.

STATSports: Pre-season is obviously a vital piece of the season when preparing players for the rigours of a full campaign. But can you break down just how important it is and why athletes should prepare properly?

San Jose: Pre-season gives every team an opportunity to start their campaigns off at a good baseline. A high percentage of player availability allows coaches to shape their starting XI properly.

If the athlete reports to preseason stronger and more well-conditioned than the previous, this is a win for everyone.  The more durable the athlete, the higher the level of performance. Not rocket science.

Obviously, this provides the opportunity for a higher level of training for everyone.  Unfortunately, if off-season training programs are neglected, it's not long before we begin to see a separation in physical output.

As a separate case, we also have many athletes participating with their respected national teams throughout the year.

A true off-season schedule might not be a possibility.  It's up to the athlete, individually, to build-in appropriate work and rest during their time away from the club.

It's more about learning to work harder and smarter in preparations than anything else.  What did we/they discover during the preceding months, and how does this effect their training management.

SS: When the season is up and running, how much does your program differ from pre-season? Do you do less intensive running as the season progresses?

 SJ: Training culture is of course most often dictated by the head coach and their game methodology.  Our current framework demands a high level of output throughout the week.

Training is very intense, including our MD +2, which may be different than most.  In order to prepare for these demands, we monitor our data on a daily basis to ensure players continue to hit appropriate thresholds for appropriate training effect.

We prescribe High Speed Running (HSR) to those who need it and hold some out if they're too high.  Max Velocity runs are completed on MD -3.

This is an opportunity for players to simply run fast.  It also provides us a snap shot of how they are feeling mid-way through the training week.

Over time, we can assess trend-lines and provide intervention methods as necessary.  It comes down to the management of the individual athlete.  We do our best to assure quality integration of performance metrics in correlation with desired training goals.

SS: Can you elaborate – if possible – on what your end-of-season targets/goals are?

 SJ: Our goals fall in line with overall Team Goals: MLS Playoffs.  Every team wants the opportunity to make a run for the MLS Cup, and we are no different.

As a Performance Department, we can sum everything up into one specific goal: Season long player availability greater than 90%.

If we can develop durable athletes through our various implementations within our department, we know the player availability will be reflection of our collaborations.  Ideally, the more players you have available, the success of the team will follow.

SS: You've both been in the industry now a long time. When did you notice the game shift towards taking sport science a lot more seriously?

 SJ: I think we started to see a dramatic shift around 2015.  At that time, GPS was a luxury for most MLS teams.

For us, a Performance Department of 3 (Two Athletic Trainers and one Strength and Conditioning Coach), we looked around the league and saw that many teams were growing in terms of Sport Science and Data collection via GPS, so we had to figure something out.

By the time 2016 came around we were merely scratching the surface of Sport Science within our organization and wrapping our heads around what we could accomplish through application.

Now here we are in 2020 with a Performance Department of 10, from Academy to USL, who all work under the same performance vertical, utilizing a systematic, scientific and "make sense" approach to our implementations.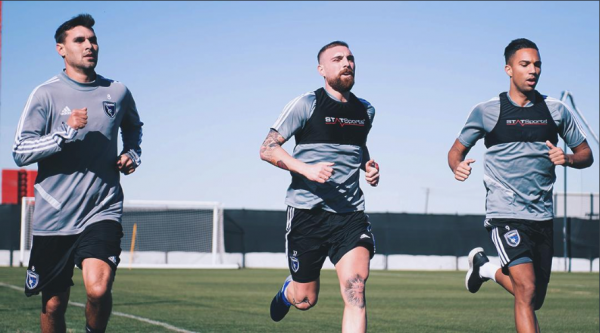 SS: What role does a GPS wearable play in your preparation of the squad? And how important a role does it play?
SJ: The importance of GPS in our preparation can't be understated.  Our entire staff prides themselves on the ability to interpret data from the GPS in order to provide an optimal training environment for our athletes.
We utilize Live Tracking daily.  Throughout a session we review reflective player output and anticipated training loads, making note of any discrepancies or "flagged" data points we may find.
With consistent data collection we have developed our in-house rehab protocols.  We're able to progressively, and often times aggressively, rehabilitate the athlete in a safe manner while understanding individual thresholds.
This enables a smooth transition into full training sessions with mitigated risks for those who have been injured.
SS: When San Jose players suffer an injury, muscular or otherwise, is it something you take personally or are you able to compartmentalize it as "that's the game" and move on?
 SJ: As a Performance Department our views on injuries being "a part of the game" has changed over the past couple of years due to advances in Sport Science.
We now have an improved understanding of appropriate physical preparation for the demands of the game.
This can have a profound effect on the reduction of injuries and dramatically decrease the risk of injury within the sport.
Taking injuries personal is not within the make-up of our department, we take it as a challenge each year to maintain a lower number of injuries/days lost than the previous year.
So much so, we have gone from over 300 days missed due to soft tissue in 2015-16 to less than 100 days missed the last two seasons (2018-19).
The show goes on.We're working for you, San Jose.#VamosSJ

Posted by San Jose Earthquakes on Friday, March 6, 2020
SS: The industry has changed hugely in the last 10 years. Where do you see it going in the next ten?
SJ: It's without question that technology will continue to mature, and rapidly.  We are still in discovery mode with the many options of implementation.
Every program, team, and training environment provide an opportunity for continued growth.  The next logical step seems to be integration and user simplicity.
The athlete should have less to think about and the coach should have less steps to have to complete when collecting and analysing information.
The quicker we can access and implement data, the sooner we can provide intervention.  For GPS, perhaps players will have sensors embedded into their clothing.
No more "bulky" pods and vest.  It's really all about improving the efficiency of our daily lives.  The more we can get away from managing physical devices, will allow us to spend more time doing what we enjoy the most, working with players directly.
SS: Daniel, you've worked for US Soccer in a previous role. How important do you feel the over-arching partnership between STATSports and US Soccer is for younger players' development and ability to catch a scout's eye?
SJ: The greatest advantage of this partnership is the capacity of sharing information for the benefit of athlete profiling and appropriate load management while travelling across programs.   In such cases, individual health and availability becomes a priority.
We must continue to improve the communication of performance objectives.  To an athlete, ongoing physical development and competition preparations is always an important consideration.
Done correctly, we will further be able to understand which general to specific areas of physical development are of greater need.
We are missing out on a wonderful opportunity if we fall short.  We can certainly assume that an athlete will have a fundamental "fitness" base by simply performing consistently with their club.
How we direct load management, then, could be of benefit to not only the individual athlete, but also the club they participate.
Thinking further, we are then able to train harder and smarter, developing more durable athletes able to participate in a global high-performance culture.
SS: Performance-wise, what metrics should a younger player concentrate on in terms of developing athletic ability?  
SJ: It depends where the younger athlete is on their Long-Term Athletic Development pathway.  Athletic ability should be looked at holistically, not only by load metrics.
To say a youth athlete should focus on "X" metric to assist their physical develop would be sending the wrong message.
It would be wise concentrate our efforts towards building a foundation on physical literacy as a supplement to on-field development and accompanying training loads.
Establish the basics, and the improvements will come.  Patience and intent.  Durability equals longevity.
Buy it now/Request a Demo
If you are a soccer or fitness coach who wants to improve your team's performance and prevent injuries, you can schedule a free demo with our team series software from one of our expert sports scientists by clicking here.
If you are an individual player who wants the same world leading technology that is used by San Jose Earthquakes and over 500 elite teams around the world, you can purchase Apex Athlete Series.
This will allow you to easily interpret your own training and game data through our iOS and Android app, without needing the support of elite sport scientists. Click here to find out more.