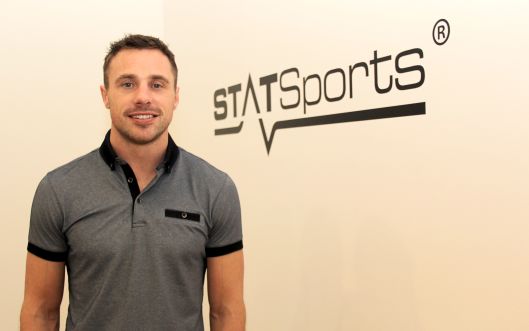 12 Oct

Tommy Bowe & Louis Ludik chat Rugby Rising, advice & RWC 2019

It's been four month's since Tommy Bowe retired from professional rugby. But that hasn't stopped the former Ireland back from keeping busy.

Bowe has teamed up with ex-Ulster team-mate Louis Ludik to create Rugby Rising, a five-day All-Ireland festival of rugby involving some of the top schools in the country.

STATSports are proud to be involved in this wonderful initiative and we invited Tommy and Louis in to chat us about all things Rugby Rising, rugby advice, and Ireland's chance at next year's World Cup

Can you tell us a bit more about Rugby Rising – what's the idea behind it? 

Tommy: The whole idea kicked off when Louis and I got chatting about the Craven Week, which is an enormous schoolboy rugby week in South Africa. School kids from all over the country come to play in it.

So we thought it would be cool to bring schools from the four provinces of Ireland – Ulster, Leinster, Munster, and Connacht together in the same vein.

Obviously, schools rugby is huge in each province, and there's nothing really like this out there in terms of an All-Ireland festival.

Louis: I grew up with rugby festivals like this at home in South Africa through my schooling and enjoyed it so much.

And I thought it was strange that there wasn't anything similar here in Ireland. It's a great experience as opposed to going into a training camp and it gives the kids a platform too.

What's been the biggest change in schools rugby since you were playing?

Tommy: I guess, for me, a big part of Rugby Rising, is bringing a bit of fun and enjoyment back into schoolboy rugby.

Obviously, kids are enjoying themselves and they're playing amongst their best friends. But schoolboy rugby has gotten so serious that they're now borderline professional.

It's so intense nowadays that kids are probably finishing up school, heading to University and nearly want to forget about rugby for a while. It's obviously very rewarding but it's tough. And not everyone will make it.

If you could write a letter to your 16-year-old self, what's the biggest piece of advice you'd give yourself?

Louis: For me, I'd try and get the best information from coaches – particularly strength and conditioning coaches.

I went through a few personal challenges earlier in my career in terms of injuries and conditioning-wise, with the internet and social media, you have so much access to good information.

Back then, it wasn't really out there, and I found I had to make a lot of mistakes to get the right type of training before I progressed in my career.

Tommy: I think confidence is a huge thing. It's important to try and keep a smile on your face and enjoy the experience.

Everyone's on their phones a lot nowadays. And sometimes you take a lot of things for granted. So, I guess it's about being a bit more present and appreciating it. Because it just goes so fast.

Tommy, you've recently retired – how are you finding it, and do you miss the buzz of playing?

Yeah, I do miss certain aspects of it. The camaraderie, the changing room atmosphere – 30 or 40 friends around you, going to the gym, training every day. But I've become more of a fan of the game again since I retired. I really enjoy it now.

When you're playing, you're so into it and focused. But now, working with eir Sport, I can take a bit of a step back and enjoy the games on the side-line.

You nearly develop that love for the game again. And you also now understand why people talk about the physicality of the game. When you're in it and playing, it doesn't seem intense. But you're nearly wincing when you see some of the hits.

Louis, you've been living in Belfast for the last four years – how do you find living in Northern Ireland as opposed to South Africa?

Louis: Yeah, my family and I are living up in Holywood and we really love it. Ulster Rugby is such a great institution, and we've a great group of guys.

The club really take care of you and go out of their way to make you feel at home. Mind you, the weather can be a bit challenging!

But South Africa isn't in the best place socially or economically at the minute. Ringing home to our parents and hearing the various stories is actually quite scary. So Belfast definitely looks like it could become a long-term home.

Both of you have played in an era where monumental changes have taken place in rugby. How big an effect has sport science played in the sport in the last 10 years?

Louis: Obviously Tommy has experienced it a lot earlier than I have, but it's been a massive gamechanger.

When I started at Ulster, STATSports were very involved and there were huge eye-openers all over the place. You could see guys, who had been taking big hits, and how fatigued they were. Even if they didn't actually know they were. The numbers simply don't lie.

The live data and how we're all monitored is amazing. Every little detail is poured over to make players more efficient in performance and recovery. I think it's made the game more entertaining because players are now faster than ever.

Tommy: Yeah, there are so many elements of the game that have now been pushed onto a new level – particularly in terms of strength and conditioning.

The game is now as intense and enjoyable a spectacle as ever for people watching. And it makes you more invested in your own performance.

At the start, you weren't really aware of how these metrics aided you as a player. But now, understanding the science behind it really helps you maximise your gains in different areas.

You've both played with the APEX Elite system. How do you think our APEX Athlete Series could impact on amateur sport stars?

Tommy: Yeah, I think it's an incredible tool for not just school kids, but for players at club rugby, GAA clubs, soccer teams.

When I was growing up, I'd always be out doing extra training. But the level of detail you can get from one of these APEX units is unbelievable. And when you're training alone or in an amateur environment, it's important to have this sort of information.

I was out on a run yesterday and I'd have loved to have had access to my stats to see how I'm doing since I stopped playing professionally. And if you're interested in fitness and improving your performance, it's a key tool.

The World Cup is less than a year away – how do you see it going?

Louis: Well, despite two great Springbok performances against the All-Blacks, a couple of swallows don't make a summer. There's still quite a journey ahead.

We play New Zealand in the pool, and that's going to be extremely tough. Obviously, Ireland are on a massive high and while I'm optimistic for South Africa, but I wouldn't be surprised if it's and Ireland-New Zealand final.

Tommy: I think Ireland do have an incredible opportunity. You can see Joe Schmidt has attempted to build a top-class squad that can cope with injuries.

In the last World Cup, we lost a number of influential players to injury and unfortunately, we just couldn't cope.

But now, Joe has developed a group of players that, even if we lose four or five top players, there's high quality replacements ready to step in.

Obviously, you don't want to lose the likes of Johnny Sexton or Conor Murray. But look at the likes of John Cooney, Kieran Marmion and Luke McGrath coming through now. And Joey Carbery is getting plenty of game-time down in Munster.

So, if those guys can keep progressing and we can keep a relatively clean bill of health, I think we've got a great chance.

For Ireland, expectation levels are now huge. But the team is in a much better place to deal with that. With Leinster's winning mentality and the spine of that side, coupled with the ability to win ugly, we're extremely well-placed to go very far.

Learn more about STATSports and the Athlete Series here.