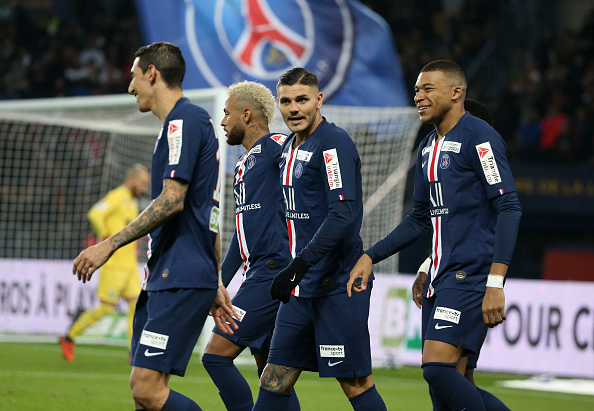 11 Mar

PSG add Academy and PSG Feminines in long-term STATSports contract renewal

European soccer giants Paris Saint Germain have re-signed with STATSports, and, in addition, extended the terms of the deal to include the PSG Academy, and PSG Feminines.

The Ligue 1 champions have been using Apex Pro Series to monitor squad fitness for the previous twelve months. And in a show of faith since, have renewed in a long-term partnership that includes a club-wide deal that will see every side under the PSG umbrella track with Apex.

PSG host Borussia Dortmund in tonight's Champions League last-16 second leg clash at Parc des Princes, and will be hoping their young gun Kylian Mbappe can fire them to glory.

Another superstar in Neymar Jnr will also have a huge part to play. Between the pair, they have 53 goals in 87 Champions League games, with Mbappe managing a goal every 122 minutes in the competition.
The World Cup winner has many attributes, but it is arguably his pace that causes most carnage. The 21-year-old has an official max speed of over 38kmph. Simply put, he is one of the fastest professional soccer players on the planet.
Neymar Jnr is no slouch, either, coming in with an official Champions League max speed at just under 35kmph. Of course, it is the Brazilian's mercurial technical ability that sets him apart from most of his contemporaries.
Another vital cog in the PSG wheel since his summer move from Everton is Idrissa Gueye. The Senegal international is a ferocious competitor and gets through a substantial amount of work in midfield.
Gueye has covered a total distance of 49.2 km in just five Champions League appearances this season. That translates as 121 meters per minute – the complete box-to-box midfielder. His industrious energy will be needed tonight if Thomas Tuchel's team are to progress over BVB.
As part of the new agreement, PSG's Academy and women's teams will also use our Apex GPS soccer trackers to track physical performance.
The likes of Adrien Rabiot, Presnel Kimpembe, Kingsley Coman, Moussa Dembele, and Christoper Nkunku are just a handful of recent graduates from PSG's youth set-up.
Whomever the next superstar is to emerge, their physical performance will have been aided by Apex.
With the new addition of a world class GPS analysis system, PSG Feminines will also be hoping to add to their recent successes. In the current campaign, Olivier Echouafni's team have progressed to the Women's Champions League quarter-final where they will face another STATSports client in Arsenal.
Olympique Lyonnais Feminin have dominated the French women's game for years now. But the Paris outfit have been inching closer and closer to their rivals in recent seasons and will be hopeful of a maiden title triumph at the end of the season.
We look forward to continued success with all of PSG's teams and wish them sustained fortune in our partnership.
Buy it now/Request a Demo
If you are a soccer or fitness coach who wants to improve your team's performance and prevent injuries, you can schedule a free demo with our team series software from one of our expert sports scientists by clicking here.
If you are an individual player who wants the same world leading technology that is used by PSG and over 500 elite teams around the world, you can purchase Apex Athlete Series.
This will allow you to easily interpret your own training and game data through our iOS and Android app, without needing the support of elite sport scientists. Click here to find out more.