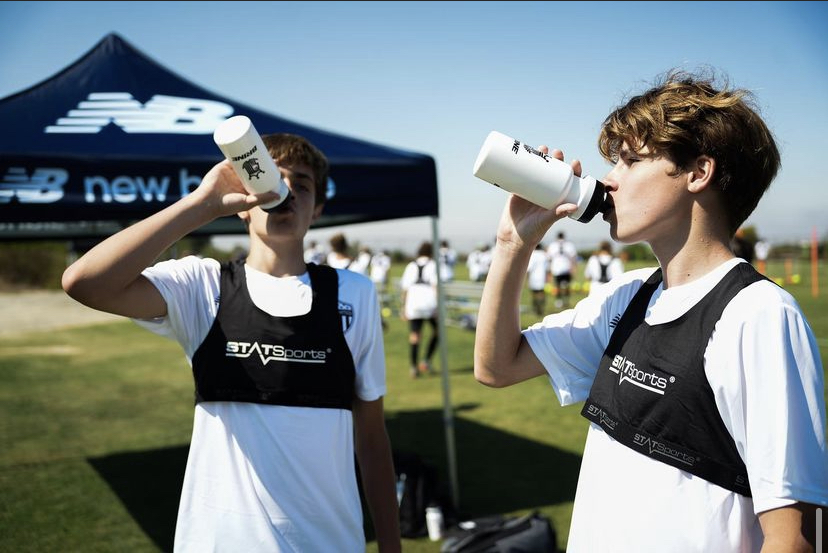 28 Sep

Urresta and Johnson top weekly Elite 64 Leaderboards for High Speed Running Distance

US Youth Soccer's new competition Elite 64 is underway, with STATSports' GPS tracking technology being used to great effect in the opening rounds of the league. 

To increase competition and engagement, Girls and Boys teams from under-14 to under-18/19 using the GPS trackers in games are appearing on leaderboards across four separate performance metrics.

This week's leaderboards focuses on high speed running distance (distance covered over 19.8 km/h) – a metric professional coaches and players would regularly use as a barometer of how athletic a player is. Generally, a player will cover 10-15% of their total distance in HSR metres.

In the boys category, Franky Urresta (U-15s) of Southern S.A topped the entire pile with 892m of HSR. In the girls, Anna Johnson (U-18/19s) of Galaxy SC came out on top with 625m of HSR.
High Speed Running Distance – Boy's Leaderboards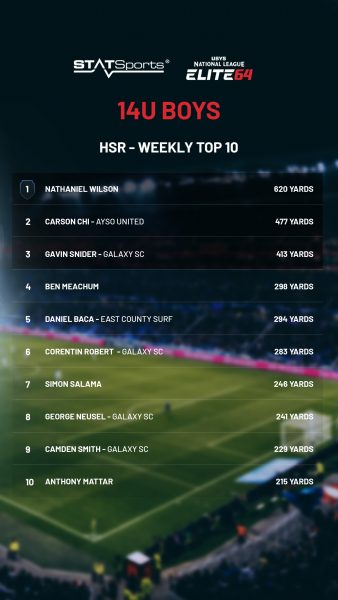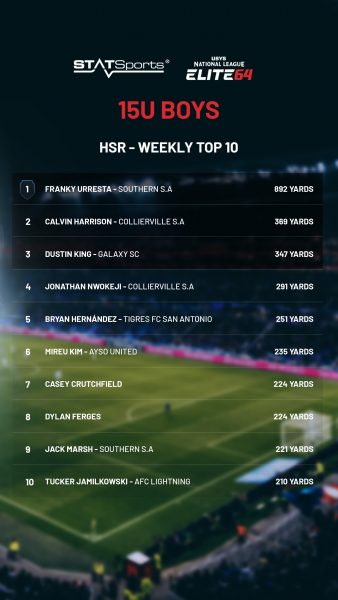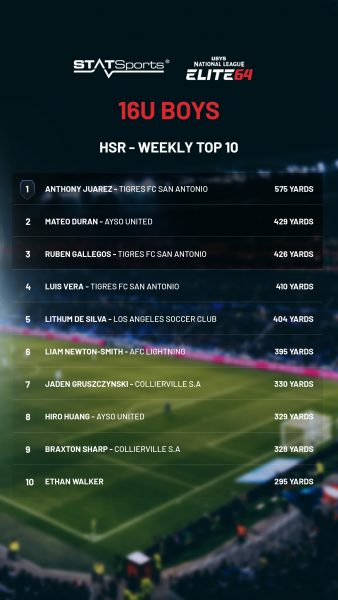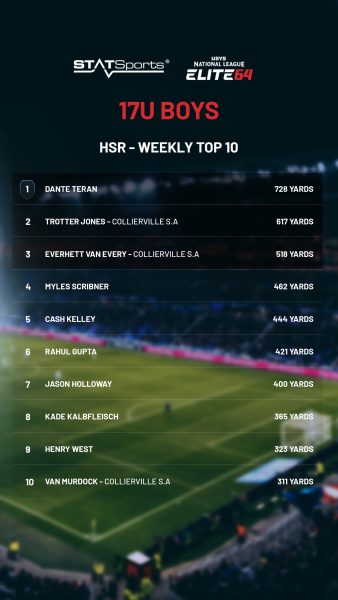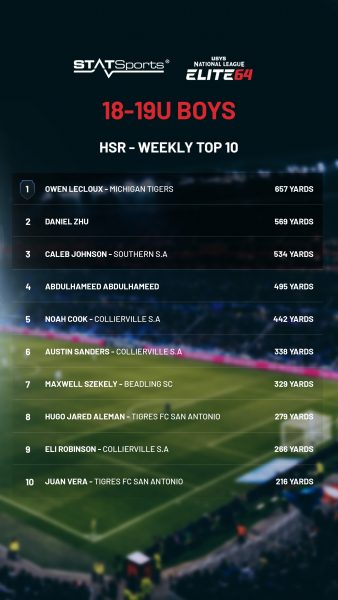 High Speed Running Distance – Girl's Leaderboards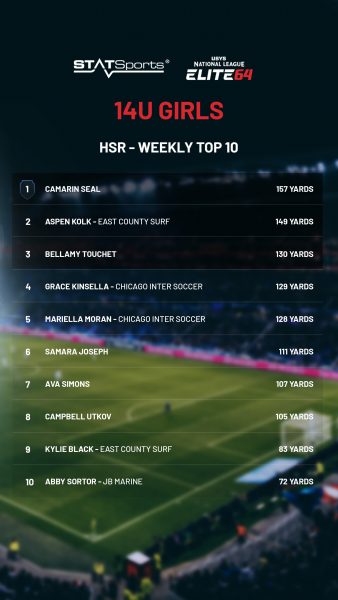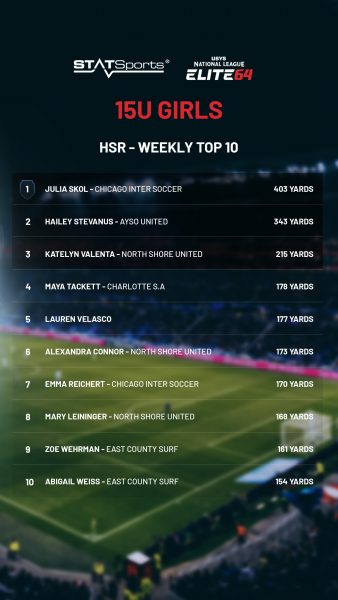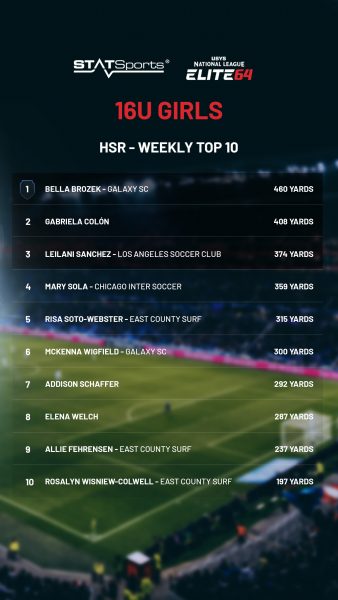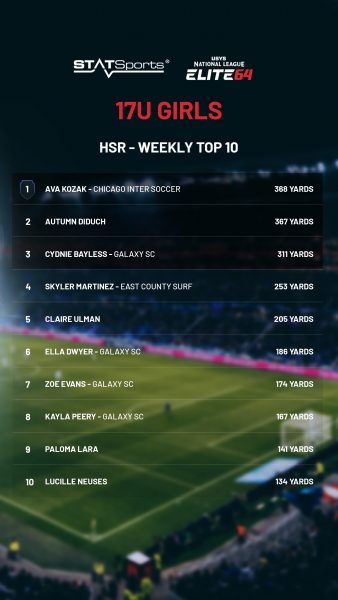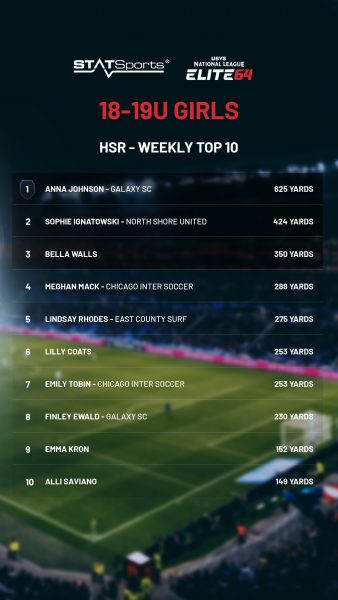 Elite 64 x STATSports
The Elite 64 competition is a new addition to USYS' National League structure.  The STATSports x Elite 64 link-up allows players across the Elite 64 to show off their abilities through every fixture and training session, making every single session a recruitable moment via GPS performance data. 
Global leaders in GPS tracking technology and official monitoring device of US Soccer Federation, STATSports are working with US Youth Soccer to highlight the best performers across the leagues, allowing players to build out their own athletic profiles based on the performance stats gathered during their Elite 64 fixtures.
Comparisons across Max Speed, Total Distance, High Speed Running, and High Intensity Distance will also be available in future weeks, allowing players, coaches, and scouts to track the stats across multiple key physical performance indicators, as these players compete throughout the season. 
Alongside benchmarking against players of their own age group, those using STATSports' Apex Athlete Series GPS Tracker can also compare their performance to some of the top professional soccer players in the world, including Harry Kane, Alex Morgan, Raheem Sterling, and Megan Rapinoe.