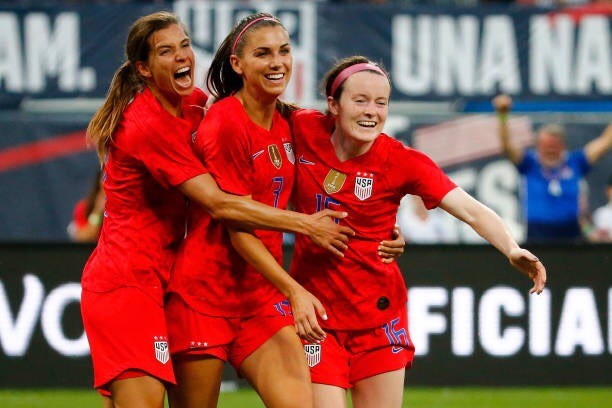 11 Jun

Women's World Cup 2019: How the USWNT are using GPS trackers in France
The US Women's National Team begin their quest for back-to-back World Cup triumphs today against Thailand.
It's the first step on a month-long journey that will see Jill Ellis' squad leave no stone unturned in their bid to make women's soccer history.
At this level, the margin between victory and defeat is minute. The devil is in the detail and detail is what the USWNT do better than most.
The US Soccer Federation's five-year partnership to use our soccer GPS tracker allows an all-encompassing approach to sport science and performance analysis.
What does this mean?
Our Apex soccer GPS trackers are used at every level of the women's game in the US from the senior women's team, the National Women's Soccer League, right down to US Development Academy level.
Coaches can track every player from the beginning of their career, right through until its conclusion once they remain within the USSF structure.
All players are monitored under one ecosystem and therefore the process remains streamlined and easy to manage.
How does it make a difference?
By measuring their players' physical output – metrics such as total distance, max speed, number of sprints, heat maps, among hundreds of others – coaches can maximise their players' output and minimize their potential for injury.
It's imperative for players and coaches to know the intensity at which each individual is working. How many metres they're covering in total distance. How much of it is sprinting. How much of it is high-speed running. How many accelerations and decelerations.
Consideration must also be given to the different positions on the field and what metrics are most related to them.
For instance, Lindsay Horan – a central midfielder – will likely cover more Total Distance than Alex Morgan, a forward. However, a forward's workload will be more intense – more high-speed running and a greater number of sprints.
It's important to track these metrics to make sure your fitness is at its peak and you're not undercooked or on the verge of burnout or injury.
How will the USWNT use it in France?
Tournament football is much different to league formats over an extended period. If the USWNT are to go the whole way and win consecutive World Cups, Jill Ellis must manage her squad carefully.
The games will come thick and fast and GPS trackers will play an important role in determining certain aspects of squad rotation. Does Megan Rapinoe need a rest? Is Mal Pugh – STATSports ambassador – at an optimum level of fitness to start in her place?
They're small details but in the grand scheme of things, they play an enormous role in determining who wins and who loses.
Do you want to track your performance like the stars of the WWC? Get your hands on your very own Soccer GPS tracker here with our Apex Athlete Series.