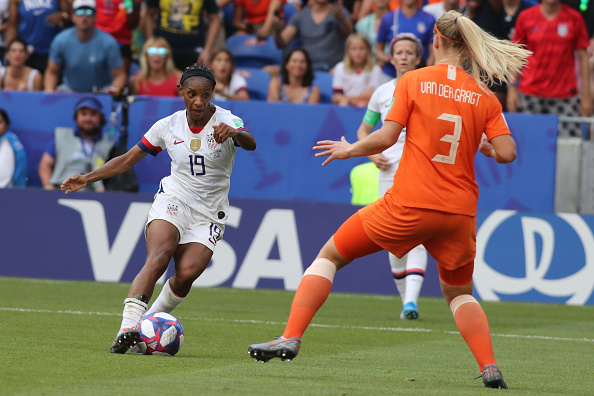 10 Jul

Total Distance: who led by example in the USWNT's World Cup triumph?

The dust has barely settled on the month-long festivities of the 2019 Women's World Cup as the US Women's National Team bask in further glory.

Jill Ellis' champions made it consecutive world title wins as Megan Rapinoe and Rose Lavelle's goals secured a 2-0 win over the Netherlands in last Sunday's finale.

Despite the depth of talent at Ellis' disposal, the USWNT simply looked much fitter and more conditioned than their rivals. And that edge told in several games. In fact, only once were the USWNT outrun by their rivals in Total Distance – the final group game victory over Sweden.

Huge credit must go to Head of Performance, Dawn Scott. Using our soccer GPS trackers as a guide, Scott was able to plot a course through seven games, from the group opener, right through to the final, getting maximum performance and sustaining minimal injuries.
Dahlkemper and Dunn top Total Distance
But who came out on top when it came to total distance covered? Of the players who played six games or more in France, surprisingly, Abby Dahlkemper came out on top with 66.9km in total distance.
However, to add further context, the North Carolina Courage centre-back did play one game more than her fellow first-team defenders. Megan Rapinoe may have garnered all the plaudits for her match-winning goals but, arguably, it was Crystal Dunn who was the USWNT's star performer.
The flying full back was imperious throughout the tournament, attacking and defending with equal intensity. Across the six games she appeared in, Dunn averaged a total distance of 9.61km per game – remarkable. Tobin Heath, Kelley O'Hara, and Sammy Mewis all clocked up more than respective kilometres, too.
Hot Heath tops Max Speed
In terms of maximum speeds, it was Heath who came out on top within the US squad at a max speed of 29.7kmph. Despite being 31-years-old, the Portland Thorns star has managed to keep herself in tremendous shape. 29kmph is also the average max speed of a women's professional USSF player.
Despite having the oldest squad in France, the USWNT triumphed. Not just because of their innate talent, but because they were arguably the fittest side in the tournament. Using our soccer GPS trackers, they were able to monitor their performance every step of the way.
And you can now avail of that same technology with our Apex Athlete Series, the performance tracker for aspiring players.