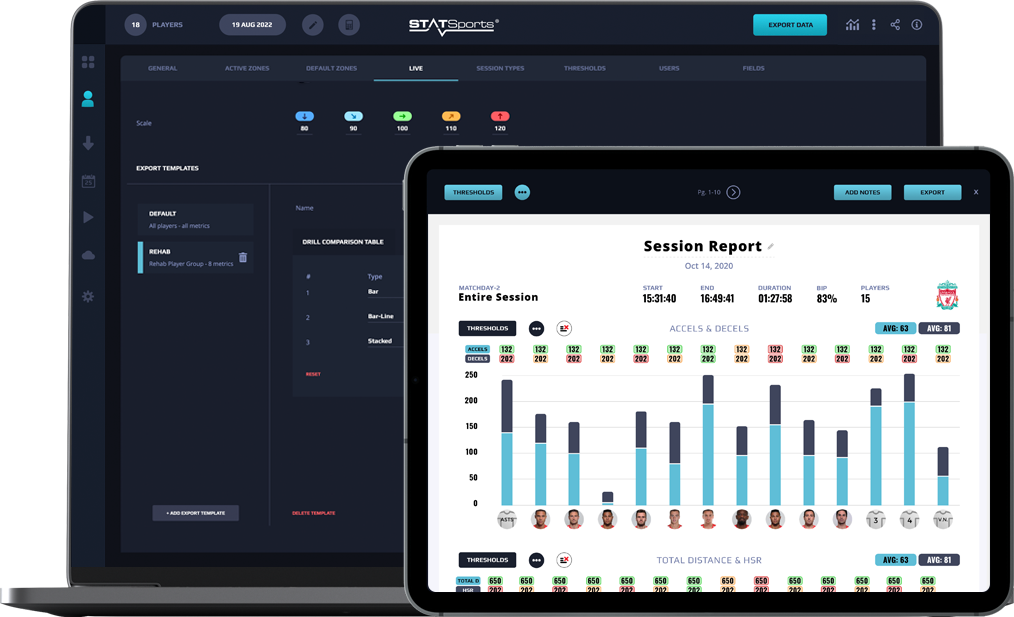 02 Aug

Sonra Live Settings – Customise Your Desired Settings
Introduction
Due to the extensive custom settings offered in the Sonra Live application, a new Live tab has been added to Sonra Desktop where users can clearly see and customise their desired settings for Sonra Live sessions.
All settings related to Sonra Live have been moved to a dedicated page on the main toolbar.
This Live Settings tab allows practitioners to save time while on the field, creates clarity on all Live default settings and ensures greater consistency across multiple devices during live streaming.
There are a number of features which can be predetermined before taking to the pitch for a training session.
These include general settings, player and metric group creation, drill intensity settings and pre-set PDF templates.
General Settings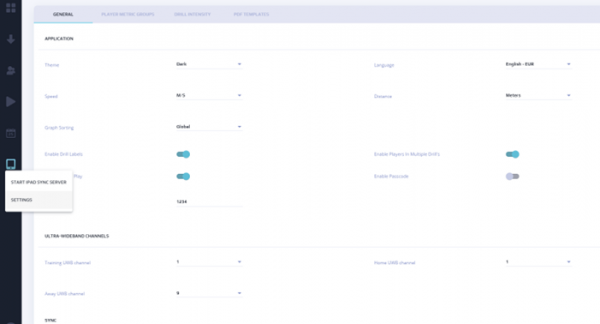 Figure 1. General Settings – Sonra Live Application Settings
General settings such as theme, language and speed/distance units can be pre-set on Sonra Desktop. By selecting their preferred format, the user can save time setting the iPad up on the pitch and make better use of their time.
This feature can be particularly useful if multiple iPads are synchronized from the same laptop and each user is using the same language and unit settings i.e., viewing max speed in m/s rather than km/h.
Drill settings have also now been added to the general settings tab, allowing for users to make all application changes on one page.
Drill Settings include features such as Drill Labelling, Drill Intensity, Ball in Play and the ability to enable players in multiple active drills.
Drill Labelling allows users to keep consistency in the labelling format and also to contextualise physical data.
Drill Intensity allows users to decide if they would like to gauge a quick snapshot of a session based on the selected intensity metric (Distance/ min, HMLD/ min or HSR/ min). This will be discussed in greater detail further below.
Ball In Play (BIP) allows users to collect BIP times (using a simple toggle) for all active drills during a session. This can then be used to display the BIP percentage, per drill, in real time. The accumulated total BIP time can then be viewed as an additional intensity marker, showing how often the ball was used during a session.
By enabling players in Multiple Active Drills, the practitioner then has the ability to gather totals of a session, while gathering information on individual drills. For example, a user may run a "Full Training Session" drill for an entire session but also include the same players in other drills, such as Warm up, Passing and Possession drills. This setting allows players to be part of multiple active drills simultaneously.

Figure 2. General Settings – Beacon and Unit Configuration Settings
Along with these custom settings, users can view sync details, including Player & Beacon Configurations, last sync times (Players & Drills) and UWB channel settings.
Player & Metric Groups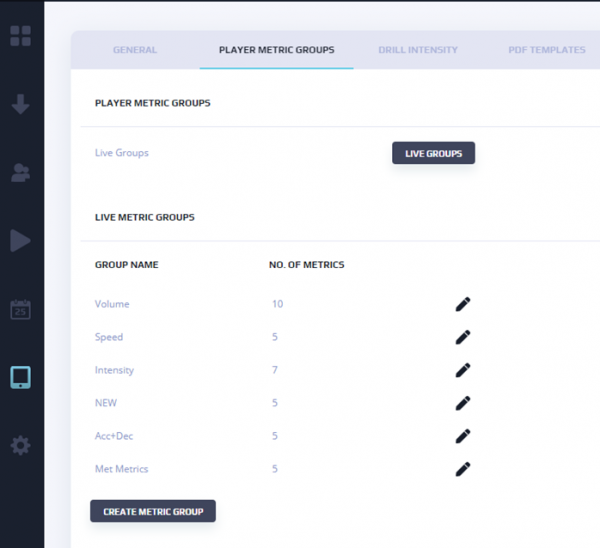 Figure 3. Player/Metric Groups
Users have the ability to create custom Player Groups and Metric Groups in preparation for a live session.
These custom groups are available for selection on Sonra Live to view in order to add specific filters to the data on show (see specific metrics/ players).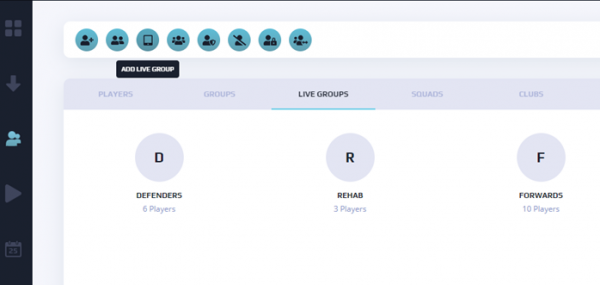 Figure 4. Adding a Live Group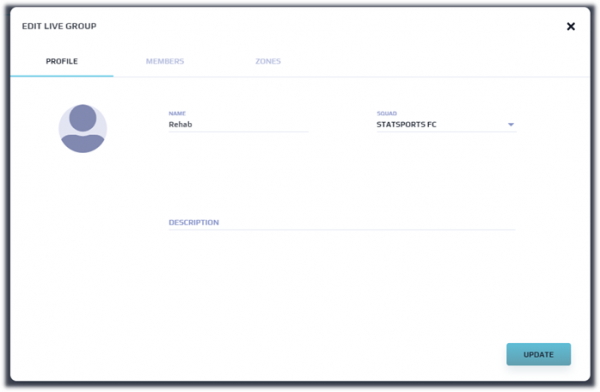 Figure 5. Naming/Editing a Live Group
Player groups may be used to divide players into rehabilitation or positional groups. These groups can be easily selected on the iPad app, allowing the user to view the data they wish to see.
By pre-creating groups, the user can save time during a session to get a quick snapshot of a group of players they wish to see.
For example, a user may create a live group containing players following a long term return to play protocol.
By having a group created on Sonra, the user will not have to create a rehab group on the iPad prior to each training session.
Another instance this may be used for is in sports such as rugby or GAA where multiple coaches may be using multiple iPads and they can view the positional group they are focused on.
In rugby, a positional group containing forwards/backs can be quickly made once on Sonra, saving the coach time creating a positional group prior to each session.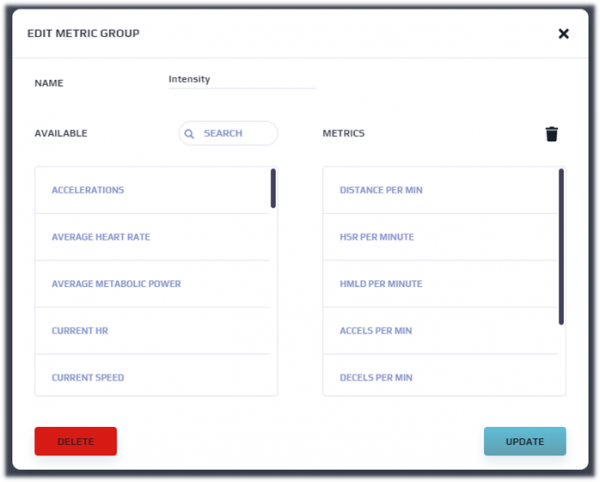 Figure 6. Editing a Metric Group
Metric groups allow users the ability to pre-set the metrics they wish to see. Up to 9 custom metric groups can be created, with a 10th group displaying all metrics. This feature may be used to display metrics relevant to a type of training session.
For example, a metric group containing high speed running, sprint distance and number of sprints may be used during an extensive session where there is larger pitch sizes and more space for players to move into.
Similarly, for an intensive session, where metrics such as number of accelerations/decelerations may be favoured a relevant metric group can be created.
Drill Intensity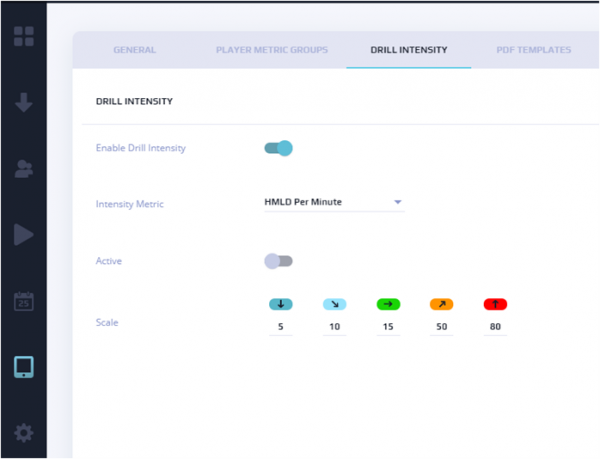 Figure 7. Drill Intensity
The Drill Intensity feature allows users to set intensity markers for drill output, enabling them to quickly compare the response across multiple drills. These intensity markers, once activated, can be viewed across Distance Per Minute, High Speed Running Per Minute and High Metabolic Load Distance Per Minute.
The Drill Intensity scale for each metric is customisable to the users discretion where they set a threshold for each band of Very Low – Low – Moderate – High – Very High. These values can also be edited or the active metric can be changed in real time and will auto-update during a session. Please note, that the scale shows values as meters per minute and not as a percentage.
This feature may be used to analyse a drill or training session based off the intensity of match play. This feature can also be used with the maximum intensity periods (MIP) to re-create the worst case scenario of match play. Applications of this feature can be found here Real Time Drill Intensity Monitoring.
PDF Templates
Sonra Live provides PDF reports that can be generated directly post session. Users can generate up to 5 custom reports via Sonra Desktop with configurable elements for players, metrics, Drill Comparison Table & Charts. Read more on the Sonra Live PDF reports here.
Conclusion
The ability to pre-determine live settings and PDF templates from Sonra Desktop allows the user to save unnecessary time spent changing settings, making groups, and determining session intensity for each session.
By saving these settings before taking to the pitch, the practitioner can focus more attention on the session itself, knowing that the set-up has been completed prior to taking to the pitch.
These settings also allow for quicker reporting post-session. By having a consistent format and combining multiple graphs, a practitioner can identify key metrics to feedback to coaches and other departments, allowing for greater buy-in across the club.
These settings can also be synchronised across multiple iPads, ensuring greater fluidity across the live monitoring process and allows for greater integration of live data during a session.
If a change is required, these settings can be altered and will stay until changed back on the iPad. These settings can also be reset to those selected on the Sonra Desktop application, following a synchronisation with the iPad.
For more information contact your Account Manager or get in touch.